The Hoh had its "Iron Man," John Huelsdonk. The Hoko has its hermit.
He doesn't cotton to the label, but Rob Snyder, proprietor of The Lost Resort at Lake Ozette, at the end of the Hoko/Big River Valley, spends about nine months of the year with several resident deer and an Akita dog named Scout for company. He reads a lot, and watches it rain.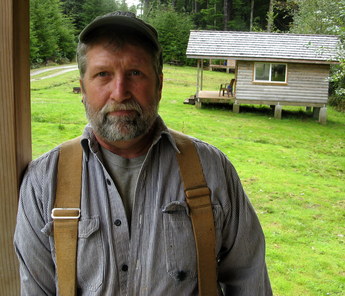 BRIAN J. CANTWELL / THE SEATTLE TIMES
As we sipped from icy mugs of beer in his cafe, watching it rain, he told me about it.
"There's an old saying around here: We have two seasons, August and the rest of the year," said Snyder, who came from Santa Barbara as a young man in the late '70s, on his way "to the great adventure" in Alaska, and decided this place, populated by almost as many hippies as deer at the time, was as wild as he needed. He got work in logging, fisheries and whatever would pay a buck.
And lately he's been trying to tame the place a bit. Tame it, if that's what you call building a 10-acre camping resort a quarter-mile from the Ozette Ranger Station and working hard to make a go of it.
Following the example of Washington State Parks and other campground operators catering to aging Boomers in search of "softer" camping, his newest addition, three "camping cabins" added to his campground, are the only roof you can rent at wet, wet Ozette, gateway to Capa Alava and the lovely and popular Alava-Sand Point loop trail. The cabins rent for $50 a night.
"The cabins have opened up the shoulder season a bit here, that's what they were meant to do," said Snyder, who claims to stock "99 bottles of beer" brands and cooks up a good goulash if you ask. Summertime is busy enough, he just needs to spread the wealth to other months. This hermit would actually welcome more visitors.
What's wonderful and what's not about running a resort at Ozette?
"Well I guess the just-barely-making-it part, that sorta sucks," he said. "But take a walk down the trail, to the beach, or go on the lake. If we went out on the lake today we'd be the only boat there on a 7,700-square-acre lake, and only four hours from Seattle. Everything's so nice and slow and easy." He paused to ruminate. "It's a nice way of life."